To continue a smokin' hot week here on my baby blog, I have one of my favorites to share with you for Favorite Friday – Jennifer Morey! Jennifer is a multi-published author with 9 books published with Harlequin Romantic Suspense and Silhouette Romantic Suspense. In late July, Jennifer became an indie publisher and released This Time in Timberline, the story of a golf pro returning to her small town roots. What a treat! Read along and find out more about this suspenseful author! Welcome Jennifer!
~~~~~~~~~~~~~~~~~~~~~~~~~~~~~~~~~~~~~~~~~~~~~
The Right Turn on my Yellow Brick Road
My writing journey began when I was a kid. My first stories were drawings of horses with bubbles of dialogue above their heads. That progressed into handwritten stories in notebooks. Those had a romantic flare. My trend toward romance began early. Next came computers and electronic files of bad grammar and storytelling. I wrote a million words before I was published. That's roughly ten books.
I began writing seriously in 1997. That was the year I graduated with a BS in geology. I was having a hard time finding a job as a geologist. Interview after interview didn't make the phone ring, and the volunteer work I did with the Bureau of Reclamation didn't lead to a paying job. But it wasn't my hard luck in a job search that changed my course. It was the death of my mother.
She was only sixty when she died. And she died suddenly. She was sick with bronchitis that eventually led to pneumonia, and the doctors didn't catch it in time. She became septic and died within forty-eight hours. I spent the last day of her life with her in the hospital. It is a terrible memory still to this day. And I still get angry when I think about the hospital staff. It was as though all they cared to do was wait for the end of the day so they could go home. My mother was dying in a room down the hall and no one did anything to help her. By the time they figured out her condition was serious, it was too late.
It was a life-altering experience for me.
When you grow up with an invincible family, you don't expect to lose anyone prematurely. We did. We lost a beautiful, warm, selfless woman who had a lot more life left in her than she was afforded at the hands of a lackadaisical medical staff. My anger over that pales in comparison to what my family and I lost. The loss of my mother is awful. Losing her taught me how fragile life is. That my family may have invincible aspirations and verve, but we are unavoidably human. And we can die.
Mom died two months after I graduated from college. By the end of that summer, I realized geology didn't have my heart and decided to pursue a writing career. I got a job that would pay the bills and wouldn't demand more than forty hours a week. Every spare moment I wrote. Ten years later, after spending the time to learn how to write. Grammar classes. Workshops on craft. Contest after contest. And most important of all, writing. Like anything else, practice is what makes you good at something. Lots of practice. I worked forty hours a week and consistently wrote another forty on top of that.
All the while, I submitted to agents and editors. But it wasn't an agent who got me published and it wasn't a submittal to an editor, either. Well, not really. It was a contest! The Finally a Bride contest. The manuscript I entered had been a finalist in six contests but never won. I won the Finally a Bride contest and the final round judge offered me a contract and a year later The Secret Soldier became a Harlequin book. It also became a two-time RITA nominee.
Four years and eleven books later, here I am. What's next for me? Hopefully the word bestseller on one of my books.
Mom would be proud!
~~~~~~~~~~~~~~~~~~~~~~~~~
Jennifer, your Mom would be VERY proud! You kept going and were rewarded for your tenacity! Congratulations on your foray into independent publishing as well as your 9 books published by Harlequin and Silhouette. That's a definite success story! I'm figuring Bestseller just might be in your future!
Let's learn a little bit more about you.
~~~~~~~~~~~~~~~~~~~~~~~~~
What book are you going to tell us about today? Is it part of a series? If so, what's the order in which the books should be read?

This Time in Timberline.
After the death of her mother, golf pro Utah Pieper returns to her mountain hometown to more than all the gossip brewing at the Over Easy Cafe. An angry stepson may be after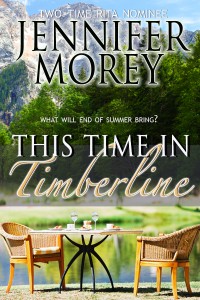 her over the terms of his father's will, and first love Mason Briggs is on leave from the military. Even worse, he's back in Timberline for the summer! Utah knows all too well what the end of summer means for Mason. Time to leave. She's got a big "no thanks" in store for him when innocent reminiscing threatens to re-kindle young love.
But a terrible secret keeps Mason reaching out to her, and Utah is unwillingly drawn to what he won't reveal. His tough exterior is impenetrable to everything except the strong attraction that keeps building. While her own past races to catch up to her, Utah must decide if the only man she's ever loved is worth the risk of losing a second time. Will their passion be enough to make him stay, or will tragedy drive him away at summer's end?
What is your favorite part of writing?
Polishing the finished draft. Getting the story down on the page is the hard part for me.
What is your least favorite part of writing?
Finding the time. Balancing a day job, family, and writing is not an easy task.
How has your experience with self-publishing been?
I love my cover.
Do you have any rejection stories to share?
I could wallpaper my office two or three times with the number of rejections I received as an unpublished author. The best one I received when I was thirteen. I submitted a story about a horse that was ten to fifteen typewritten pages full of penciled in corrections. The editor sent me a kind response, saying that Walter Farley began writing at thirteen and that I should never give up. I didn't.
Are you a member of any writing organizations and, if so, have they helped?
I am, but they don't help me as much as they did when I was unpublished. I learned how to write through organizations. I met lots of good friends. But now with deadlines and a day job, I don't have as much time.
Will you share some encouraging words for authors still struggling for that first contract?
Stop fighting it. Keep your goal alive, but only write for the love of it. Don't try too hard to write what you think will sell. Take responsibility for learning or honing your craft. Take responsibility for working hard to get published. But don't let it take over. Was it Deepak Chopra who said that resistance creates more resistance? The more you fight the rejection, the more rejection you'll get. I got published when I least expected it. I wasn't fighting it.
What's your secret to writing an action/fight scene?
I don't rush writing them. I make sure the writing flows. If the writing flows, I have a better chance of making it believable and putting the right images into a reader's head. If the writing is jarring and stops me, then the characters may as well be playing Twister.
Where is the wildest place your characters have had sex?
On the hood of a Mustang in the woods. This Time in Timberline.
Where can readers find your books?
Amazon is the best place. I'm giving away free books to anyone who writes a 4-star or above review on any of my books. See my website for that. www.jennifermorey.com
~~~~~~~~~~~~~~~~~~~~~~~~~
Yowza! I once had a Mustang (loved it!) but never thought to use it quite that way! Thanks for coming by today to talk with us and introduce your latest book, This Time in Timberline, and also for sharing your publishing journey! Your advice is really inspiring! See what happens, readers, when you don't give up?!?
~~~~~~~~~~~~~~~~~~~~~~~~~~~~~~~~~~~~~~~~~~~~~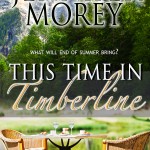 Buy This Time in Timberline at: http://www.amazon.com/This-Time-in-Timberline-ebook
Visit Jennifer at:  http://www.jennifermorey.com/
Friend her on Facebook: http://www.facebook.com/jennifer.morey