Welcome to Wicked Writer Wednesday. I'm so pleased to introduce today's showcase author guest, Holley Trent! Holley is the author of humorous contemporary romance with a "Quirky Kink" twist. Sounds like fun, doesn't it? Reading one of her irresistible short works is truly a pleasure and a vacation from the ordinary! Read on and learn more about Holley and her latest novelette, All Shook Up! Welcome Holley!
~~~~~~~~~~~~~~~~~~~~~~~~~~~~~~~~~~~~~~~~~~~~~
Thanks, Lori, for letting me visit today!
I'm Holley Trent, a Coloradan romance writer. I author stories set in rural North Carolina (where I'm from). They're usually quirky and sort of bawdy. I want to tell folks about my new romantic comedy novelette All Shook Up and why I wrote it.
What's a novelette? A novelette is basically a long short story not quite long enough to be a novella. You don't have a lot of time for world-building or character development: you drop your characters into a situation and make them solve it as quickly as possible. Get in, get out, boom.
After I wrote my first rom-com The Spirit of Things, I felt my "boom" wasn't boomy enough so I felt compelled to improve the "happily ever after." That's what All Shook Up spawned from. In it I do something a lot of writers would probably consider cheating: I dumped in a lot of new characters so I could make Nikki, my heroine, the anchor of a loose series. I knew I was done with her love story, but I wasn't done with her community.
As soon as I turned All Shook Up in to Rebel Ink Press, I started Polished Slick: a novel being released next month. Two minor characters from All Shook Up take the lead roles. And in the next book, which I think I came up with a title for today, two more minor characters from Polished Slick grab the baton. Nikki shows up again to facilitate the story.
Novelettes are handy, huh?
~~~~~~~~~~~~~~~~~~~~~~~~~
Well, they sure sound like a ton of fun to me! I know from experience that writing short is truly an art form. UIt's not as easy as you would think. I love the way you described it – dropping your characters in a scene and letting them figure it out!
~~~~~~~~~~~~~~~~~~~~~~~~~
Here's a PG-13 excerpt (language) from All Shook Up where you can see the hero from Polished Slick's stealthy introduction:
All Shook Up Excerpt
Mercedes opened the office door, looked out to see if anyone was lurking in the hall, and then pulled her head back in to close it. "The rumor is that she's made one of those porno movies—and not even the good ones that you get in the mail in plain brown packages,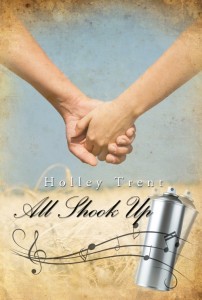 but one of those shitty internet ones you have to download and then hope nobody finds while they're on computer printing coupons and shit."
The right side of my face twitched. I didn't even know which part of the statement to address first. "Do you think it's true?"
"Wouldn't be hard to find out. You want me to find out?"
I imagined Luz stumbling onto the computer her mother had negligently left open on some scandalous link and shuddered.
"Um. No…um… Hey, you know what? I know a hacker-type guy who lives alone in a trailer and who would probably love to do me a favor. I'll ask him."
"You mean that guy who lives out on Yellowhammer who has all his windows painted black?"
I blinked mutely at Mercedes' knowledge of the county crazies.
~~~~~~~~~~~~~~~~~~~~~~~~~
That guy's name is "Jerry" by the way. Right now I'm sketching out the characters in the next story, and I need some help naming one of the supporting cast members.
So this week I'm asking blog readers to tell me their favorite "old-fashioned" name. On Saturday, I'll pick one at random and use that name on a secondary character in the next book—and you'll get a mention in the acknowledgements for the suggestion.
I can't promise it'll be a likeable character, so keep that in mind!
~~~~~~~~~~~~~~~~~~~~~~~~~
That sounds amazing, Holley! Readers, be sure to comment for a chance to name a character in Holley's next novelette! Thanks so much for being with us today. BTW – where can we find your latest, All Shook Up?
~~~~~~~~~~~~~~~~~~~~~~~~~~~~~~~~~~~
All Shook Up is available now at:
Amazon (Kindle)
All Romance
Barnes and Noble (Nook)
BookStrand
~~~~~~~~~~~~~~~~~~~~~~~~~~~~~~~~~~~~~~~~~~~~~
Watch in September for my sensual romance novel Polished Slick and stay tuned for news for the next spin-off. I'll announce it on my website—holleytrent.com/blog—or possibly blather about it on Twitter. Just follow @holleytrent.