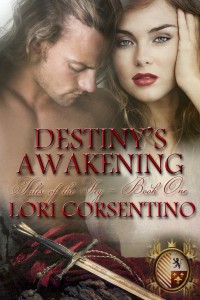 YAY – it's June 28th! The release day for Destiny's Awakening available from 5 Prince Publishing! I'm so excited. We're going to have some fun today. I've got bags and bags of swag and both print and eBooks to give away to lucky commentors. I've also got a couple Barnes & Noble gift cards for the 10th and 25th commentors!
This first book in the "Tales of The Fey" trilogy tells the story of Evie, an archaeologist who loves things of the past, and Alexander, an enchanted Fey Prince awaiting his date with destiny. Although the story may sound  familiar for many of you who already have read Evelyn, this "Author's Cut" has much  to offer! With almost 15,000 additional words, there's a lot more to enjoy.
I hope you consider checking out my twisted fairy tale. It can be purchased from Amazon, Barnes and Noble, Smashwords, and All Romance eBooks. In a couple days, it will also be available on iTunes.
I'm also visiting several sites to spread the word on my release. Check out these sites for chances to win swag and book prizes! Here's my schedule:
Monday, June 25 – Elizabeth Haysmont
Tuesday, June 26 – Lia Slater
Wednesday, June 27 – Karen Docter
Thursday, June 28 – Her Story Calls
Friday, June 29 – Lizzie T. Leaf
Next week I'll be visiting M.L. Guida on Monday, July 2 and Jessica Aspen on Thursday, July 5! The following week is extra busy with visits to Lynda Hilburn on July 10, Cynthia Woolf on July 11, and Bernadette Marie on July 12! Check those blogs for more chances for giveaways and swag!
I'll also be reading from Destiny's Awakening at the Denver Lady Jane Salon on Tuesday, July 10th at 7:00pm. It's held at the Wine Loft at 15th and Wazee downtown. It's an absolute blast and well worth the trip! Swag and prizes to be given away!
I love to hear from my readers and sister-writers, so comment away! Chances are good you're going to win something!
Happy Release Day!
Lori
This book