Are you ready for a Wicked Writer Wednesday one night stand? I hope so because today you all are in for a real treat. I'm featuring C.R. Moss – author of Sunset Seduction and Sunset Desires, two volumes in Decadent Publishing's 1 Night Stand Series!
I met this wonderful author in June of this year at RomCon 2012. We really had a great time attending the events, eating, drinking and generally making merry. Authors are readers too, so it's always great to meet a fresh new authors at these events. I'm sure you're going to enjoy this interview. Welcome Chis!
~~~~~~~~~~~~~~~~~~~~~~~~~~~~~~~~~~~~~~~~~~~~~
Thank you, Lori, for having me on your blog today!
Hi everyone, my name is Chris, and I write under the names C.R. Moss for erotic and mainstream romance and Casey Moss for mainstream dark fiction (horror, suspense, urban fantasy).
My professional bio for C.R. Moss: An eccentric and eclectic writer, C.R. Moss pens stories for the mainstream and erotic romance markets, giving readers Worlds of Possibilities when it comes to love.
The bio for my other persona: Casey Moss delves into the darker aspects of life in her writing, sometimes basing the stories on reality, sometimes on myth. No matter the path, her stories will take you on a journey from the light-hearted paranormal to dark things unspeakable. What waits around the corner? Come explore…
~~~~~~~~~~~~~~~~~~~~~~~~~~~~~~~~~~~
~ Do you write under a pen name? Why?
Yes, I do. The names C.R. Moss and Casey Moss are pen names. When I first started off writing and publishing erotic romance, I decided to use my initials. Seemed the easiest way to come up with a pen name at the time. For my mainstream stuff, I'm using a childhood nickname. As for the last name, my real last name isn't too 'general public friendly' or 'writer sounding' so I used an English translation of it.
~ What did you want to be when you were a child? Did you always know you wanted to be a writer?
For a very brief period of time, I had ideas of becoming a teacher or an astronaut. Both occurred before the age of ten. But for the most part, I knew I wanted to write at a young age, as early as I learned to read. I was always cooking up stories to entertain myself in the rural area I lived in. Had to since there were no other kids around to play with. My defining moment came when I received an A in English in grade school. I was just shy of being a teenager when I had my 'calling.' Ever since then, most of my choices in life have revolved around my goal of becoming a full-time fiction writer and being published.
~ When did you start writing toward publication?
Upon my 'calling.' I had written a story for a magazine. It'd been rejected, but that was my start. After that, I began studying the craft of writing. It started with working on the school newspaper in middle school to creative writing classes and Teens Art Festivals in high school. I received a BA in Communications, Information and Library Studies from Rutgers College with a strong concentration in English Lit/Writing and Interpersonal Communications/PR. Studying under the mentorship of Terri Valentine (author of 'Sands of Time,' a Zebra Historical Romance), I honed my novel writing skills. In the mid to late 2000s, I finally put my foot down, got over my nerves and took the plunge into submitting stories to publishers. I've been published since 2008, and as for the craft, I'm still learning things by taking the occasional online class, attending industry conferences, and devouring all the writing how-to books I can get my hands on.
~ Where do you get your inspiration?
I get ideas from everywhere…conversations, news headlines, television, songs. On occasion I've been known to pull from my old careers and the people I've known, drawing out tidbits of personalities for characters, places for settings and information to assist with subject matter—for example, using the basis and background knowledge of energy work that I learned in the massage field for paranormal stories I've worked on.
~ Has anything in your real life ever inspired scenes for your books?
Of course it has. I love using the places I've lived in and visited as the settings. There was one story I wrote (it's not available at the moment) where I used a situation I'd been in one night on a beach. Granted, I elaborated on the situation and made it much more intense than it had been, but the foundation was there.
~ What are you currently working on?
Under my C.R. name, I'm in the process of finishing my parts of the next Wild West book that my writing partner and I are writing which will complete the first draft of that manuscript, then it's onto the third Wild West story since I have some more scenes to do for that, too. I also have a WIP that I'm planning on submitting to & hopefully will be picked up by Evernight Publishing's Naughty Fairy Tales line. That story will take up where an anthology story left off. I also have two more Sunset stories to finish for Decadent Publishing's 1NightStand line.
For Casey, I have an urban fantasy series started, a horror series in the works and some editing and republishing of several other stories.
What book are you going to tell us about today? Is it part of a series? If so, what's the order in which the books should be read?Please tell my readers a little bit about your book.
Today I'm talking about my erotic romance/chick-lit Sunset books. It's a series I'm doing for Decadent Publishing's 1NightStand line. Originally, I had some outlines for stories that I wanted to submit for a particular publisher's 'destination' line. When I attended a conference and met the people from Decadent and heard about Decadent's 1NS series, I was excited to rework and apply the story ideas to their line. I'm thrilled to be a part of their series now.
Sunset Desires, the first of my Sunset books, is available at Decadent Publishing. Inspiration for the story came from my love of sunsets and a trip to Grand Cayman. In the first book set on the Caribbean island, four women relatives are introduced, and the one woman, Gwen, has her date that her cousin, Heather, set her up on.
Sunset Seduction, the second Sunset book which takes place in a hotel room in Las Vegas, is also available at Decadent, and follows Heather and her date. The third and fourth stories, Sunset Temptation and Sunset Heat, are currently works-in-progress. Temptation will be a M/F/M to M/M/F erotic romance that centers around Ivy. Heat will be a M/F erotic romance that will follow Seana and her date. And, I'm proud to say, both Sunset Desires & Sunset Seduction are All Romance Ebook Best Sellers! 🙂
Sunset Desires
~ A blind date. A hot tropical evening. She'll be someone he can't forget. He'll fulfill her ultimate fantasy.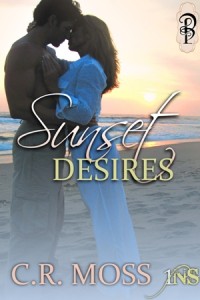 ~ Gwendolyn Tramonto is stunned to learn her cousin set her up with sex on the beach and it's not the drink. But after a several year dry spell of no relationships, no dates…no sex, Gwen decides to take her cousin up on her offer and go out on the blind date. For once, she'd like to indulge in a fantasy, be wined and dined instead of the other way around, and if she and the man ended up in bed together, that would be a nice bonus.
~ Evan Cadell is looking forward to the date his uncle arranged for him through an exclusive matchmaking service and taking a one night break from work, life and all its demands. From Gwen's profile, Evan knows what her fantasy is and believes he's the man who can make it come true.
~ But will one night in paradise be enough to satisfy their desires?
Sunset Seduction
~ One evening. One date. Easy, right?
~ Heather Tramonto, a business woman with only her career and a quickie on her mind, is all set for her 1NS date and a bit of adult fun–no conditions, no commitment–when a surprise shows up at her door.
~ Lane Stanwyck is entering the dating world after years of an estranged marriage and the passing of his hostile wife. When Madame Eve schedules an anonymous tryst for him–no conditions, no commitment–he believes it to be the perfect arrangement for his first time out in the dating field in ages. That is until he sees the woman of his dreams.
~ One night. No strings. That might be a problem for this pair.
Excerpt for Sunset Desires
Gwen. The match up. A distraction for a night. A short break from the drudgery of life. Uncle Lane wanted him to start a relationship. He only wanted a fling. That's all he'd promised his uncle, who seemed gung ho to have him settle down. Weird idea coming from a man who hadn't had a happy marriage. Evan's habits of living alone and immersing himself in work were ingrained. He had thirty-five years of bachelorhood to his credit. If it weren't for Lane, he'd still be at the office poring over figures. Not much else to do when you lived so far away from friends and family, and on an island.
But Uncle Lane, a recent returnee to the dating pool, had decided all the single males in the family needed to dive in with him. He put Evan at the head of the matchmaking line. Lucky me. Shrugging, he downed the rest of his beer. The least I can do is make the best of it and show her a good time. Glancing down at Gwen's profile, he focused on the main words of her fantasy—vacation, exotic location, handsome man, sensual rendezvous.
Handsome? Check. At least he'd been told he had above-average features. Exotic location? Check. He had the perfect spot to take her. Erotic tryst? Though friends and family called him charming and women praised his skills, he hoped he could give her what she wanted and make her dreams come true.
~~~~~~~~~~~~~~~~~~~~~~~~~
Wow! It's great to see the virtual buffet of books you have available for readers. Both of your Sunset books sound amazing, and that excerpt for Sunset Desires is very tempting.
Thank you so much for coming on today for Wicked Writer Wednesday! One last question, where can readers find your books?
~~~~~~~~~~~~~~~~~~~~~~~~~
C.R. Moss
Casey Moss
~~~~~~~~~~~~~~~~~~~~~~~~~~~~~~~~~~~
What a pleasure it is to have you on today, Chris! Readers, I've got a couple of her books and I'm really enjoying them. Visit her website and blog by clicking the links below.
~~~~~~~~~~~~~~~~~~~~~~~~~~~~~~~~~~~~~~~~~~~~~
Connect with C.R. Moss at: http://www.crmoss.net
Connect with Casey Moss at: http://caseymossbooks.com
Keep up with the happening on her blog: http://crmoss.blogspot.com/