I'm so excited for CRWs Mystic Month of May blog-hop. The ever amazing Helen Hardt, my CRW-sister and an amazing contemporary, historical, paranormal, and erotic romance author, has put together a fantastical blog hop for romance readers to enjoy. It all starts today, Monday May 14th, with Helen introducing paranormal author Jessica Aspen!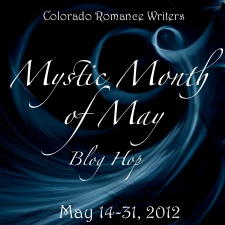 The next day, Jessica will bring us paranormal author Hillary Seidl. On the 16th, Hillary will introduce J.L. Bowen.
And so it will go on, with a new author each day. These legendary ladies will share with you all their favorite things about the marvelous, mystical month of May — my favorite month!
Talk about a little manic. This will be my first blog hop, so I'm a little nervous, but eager to start. I will have the pleasure of being hosted by up and coming Young Adult Paranormal author J.L. Bowen on May 17th.
The next day, on May 18th, I will host M.L. Guida, a great new Paranormal Romance author right here on my blog. Her Underworld series, Dark Promise and Ravaged Soul, will be available soon from 5 Prince Publishing. This is a great series about good and bad demons and life giving trees. She also has Betrayal, a romance that deals with a heroine who can see auras, and a hero who might be willing to put his wings on the line for her, available from Passion in Print in August, 2012.
Following M.L. Guida is the phenomenal Lizzie T. Leaf, the spectacular Marie Sexton, and so many more! Click here for the complete blog hopping schedule.
Enjoy!
Lori